Purchase the pattern or buy the dress already made!  (photo 3 via mingo & grace)
Allow me to introduce you to the Blake dress by mingo & grace. How stinking cute is this? As soon as I saw it I thought it would be perfect for Sister to wear for Easter (or a holiday party, special occasion, flower girl dress or just because – who needs a reason?) and I couldn't resist. I mean, who doesn't love a little girl in a dress? Ugh, love.  You can't tell in my photo but this dress has pockets too!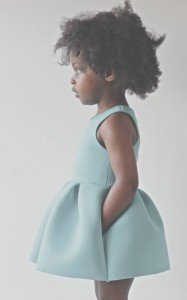 I'm not going to lie, I'm not a seasoned sewer (quite a beginner, actually) and after printing out all the pieces to the pattern, I thought I was in a little over my head (it's 33 pages long!). Deep breath. After looking at the instructions and 'before you begin' guide, I realized it really is only a few pages long with instructions for option of with or without lining and detailed explanations of sewing terms (many of which I had never heard of before so super helpful).
This pattern was originally created to use neoprene fabric (alternately, scuba fabric) but I was too excited and used what I had on hand (pink duck cloth/canvas and a light weight polka dot cotton blend lining). Remember this little background fabric? I've never sewn with neoprene/scuba before but I'm up for the challenge and am so excited to see how the next one turns out.
I will say that after this project, I definitely need more practice with invisible zippers. Gah, they give me heartache just thinking about them.  But this was such a simple and enjoyable sewing pattern, I can see myself sewing many more Blake dresses for Sister.
Bonus? You can join the mingo & grace facebook group and ask questions/get ideas and tips from the other members.  If you're short on time or just not into the whole "sewing" thing, some of the members (like Sansahash) sell the dress pre-made from their Etsy shop!